Posted by GGP on Oct 20th 2021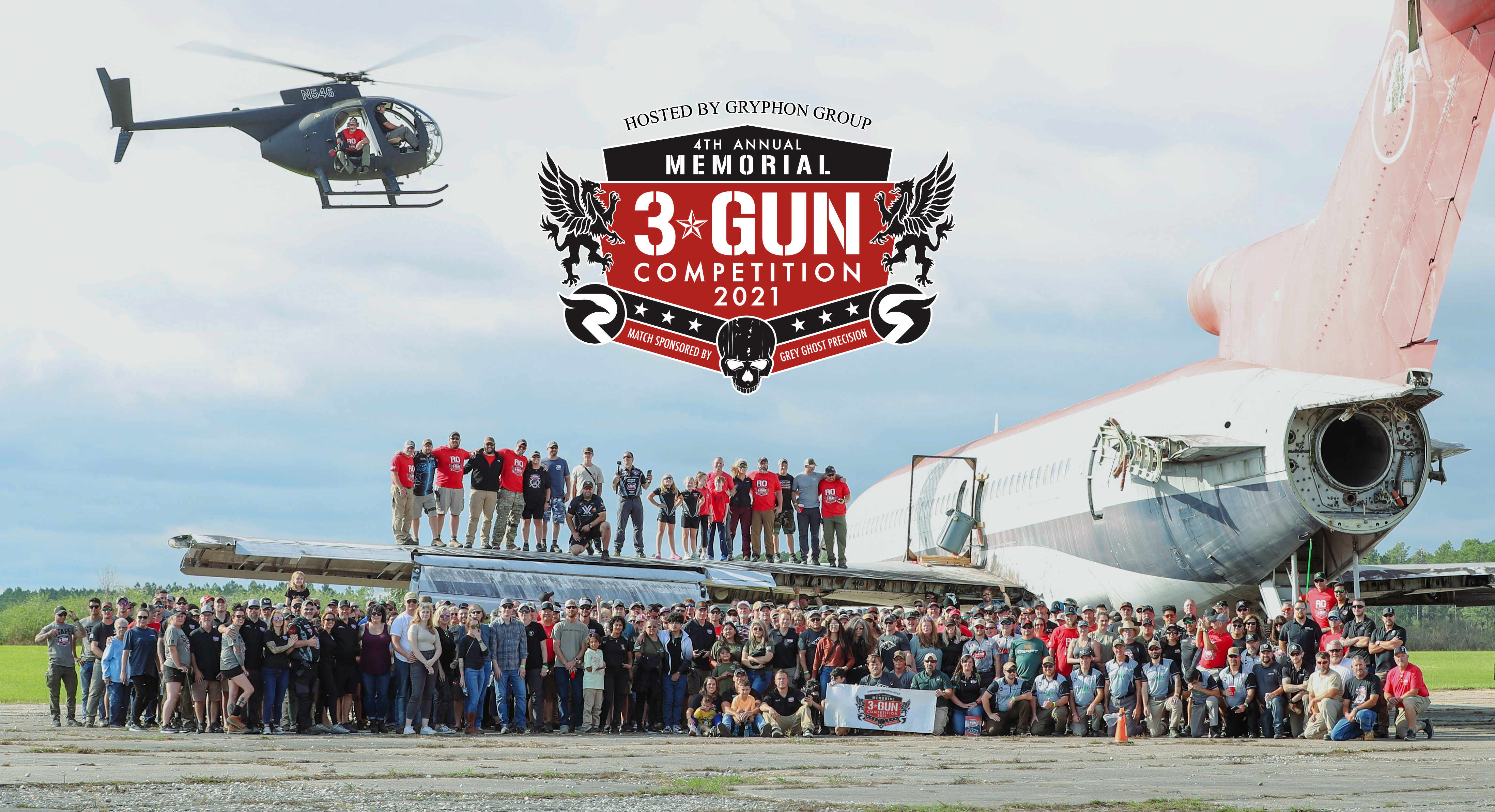 Raining down hot lead from tattered wings: 4th Annual Memorial 3 Gun Competition
Sunday October 10th, 2021 - Maxton, NC
Despite the chaos that still plagues the country for any large event organizers, there is one special time and place that we at GGP look forward to each year—the Memorial 3 Gun Competition. For the fourth consecutive year, the Memorial 3 Gun Foundation has put on an incredible 3-day match that is not only challenging for the nation's top shooters, but also has an extremely noble cause at its core.
The match took place just outside Fort Bragg in the town of Maxton, NC from October 8th to the 10th at the Gryphon Group Security Solutions training facility. That area of North Carolina is pretty well known to anyone in the Army and for good reason. The soil of that entire region is literally soaked with the blood and sweat of previous generations who have gone through SFQC (Special Forces Qualification Course) individual skills training as well as Airborne training. Hundreds upon thousands of America's finest warriors have trained on the same dirt in which this match took place. It is a humbling realization that washes over the shooters, staff, volunteers, Gold Star family members, and public visitors during the event.
Every year the entire match improves and adapts to be better than the previous year. Squad formation gets cleaner. Stage scheduling gets tighter. The stages themselves get more creative and challenging each year. This year, a decommissioned airplane was incorporated into a stage as well as the coveted Little Bird Side Stage on the third day. On the final day, 15 lucky shooters, who are drawn by raffle tickets, get to shoot an aerial stage via an MH-6 Little Bird helicopter. The pilot buzzes a designated course, giving each shooter a chance to experience a sliver of what Special Forces operators learn to master. While many competitors are aiming for the top 3 in their division, the trophy for the Little Bird Side Stage is just as coveted as any other prize.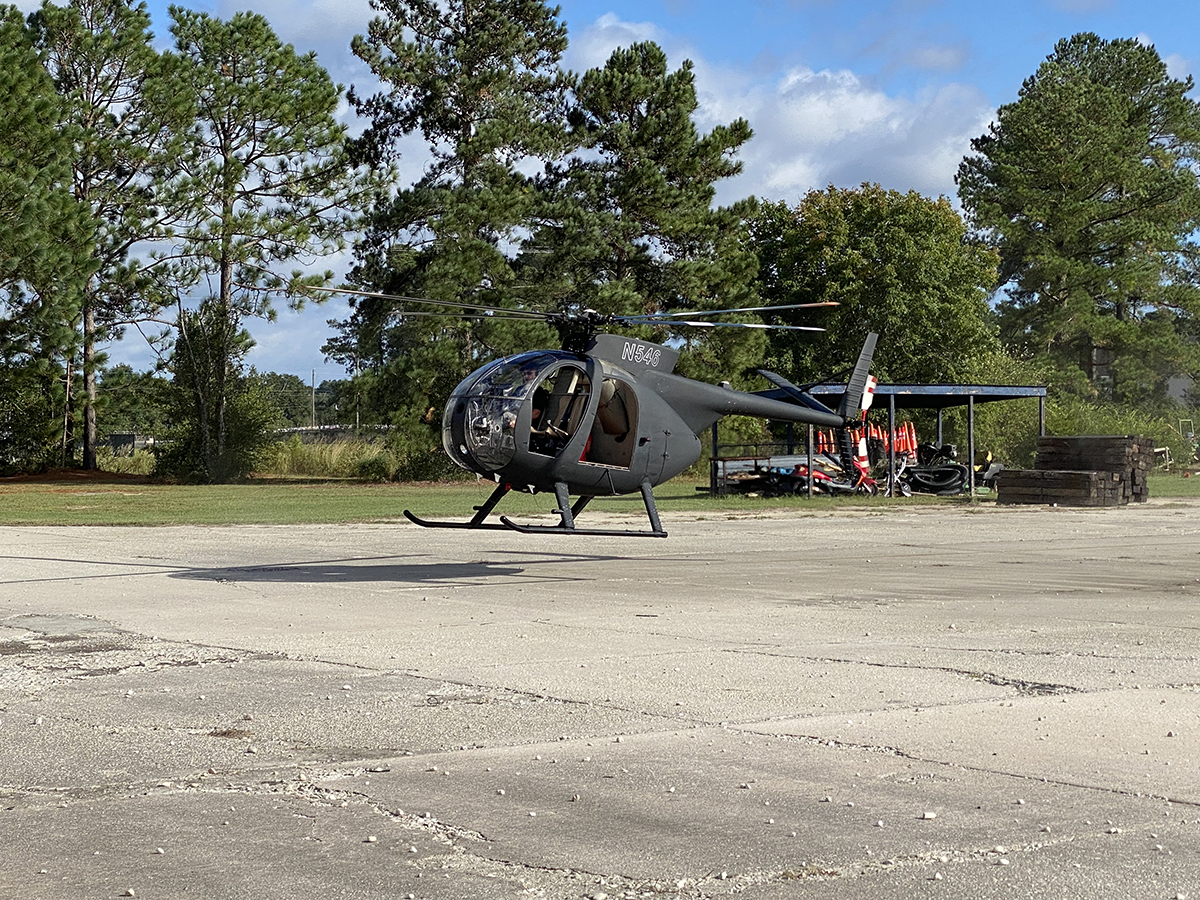 Each year the limited registration slots for this match fill up within mere minutes. There were 237 total shooters in this 4th annual match, including prominent marksmanship units from all 4 military branches, dozens of M3G foundation ambassadors and other industry 3 Gun teams including Grey Ghost's own 3 Gun team. When asked about the match, Grey Ghost 3 Gun team captain JP Sullivan answered "this year's Memorial 3 Gun Competition was the biggest 3 gun match of the year and they spared no energy making it live up to the hype." JP shoots 15-20 various matches each year, and says "the Memorial 3 Gun stages were extremely well done, providing incredible options, challenging and unique shooting platforms in stages never seen before in a 3 Gun match... it also provides an incredible and very positive emotional experience to the Gold Star families and the competitors."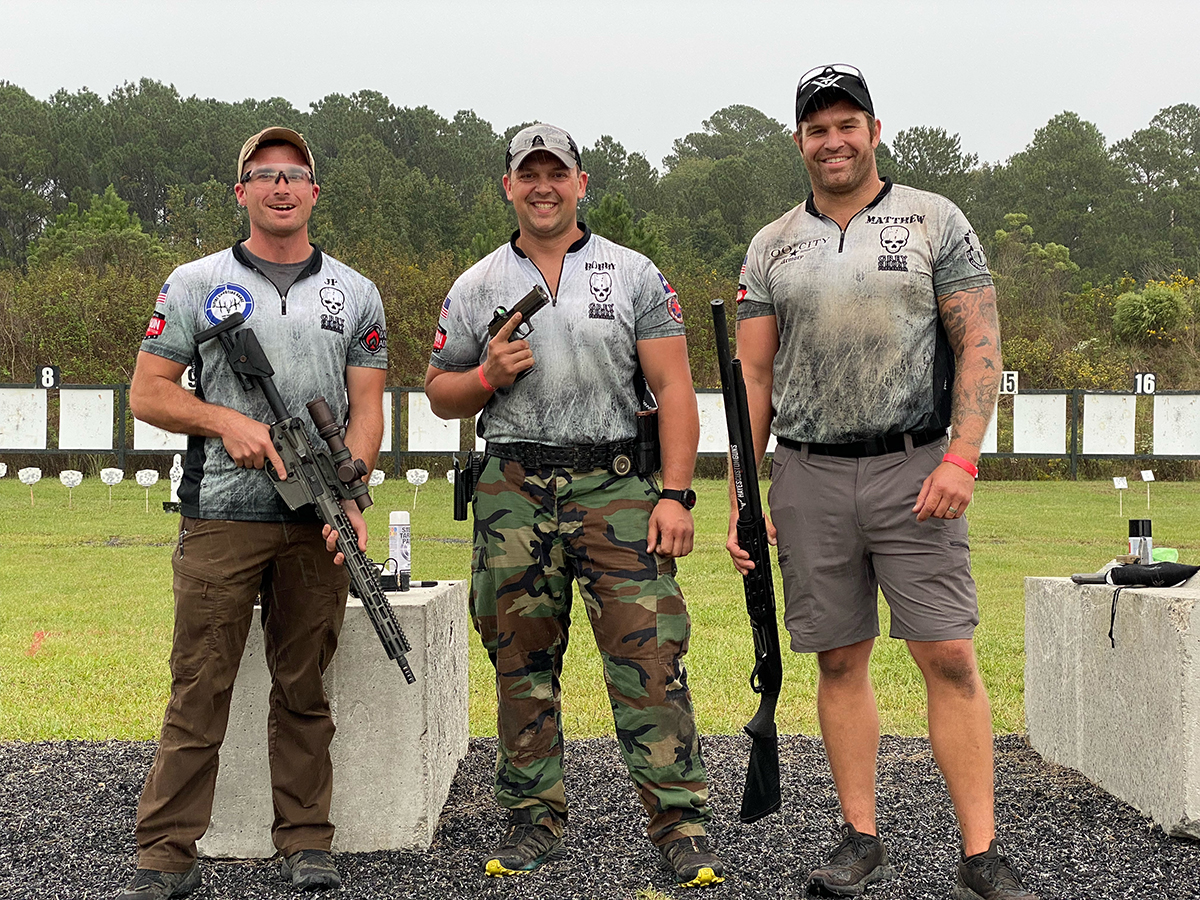 What makes this match so significant and different from other matches?
Although certainly there are prizes to drool over, the entire focus of the event is nobler. Each year the foundation selects 10 fallen members of the Special Operations community to honor. Each of the 10 main shooting stages is dedicated to these honorees, and funds raised throughout the event go directly to the 10 honoree's Gold Star families.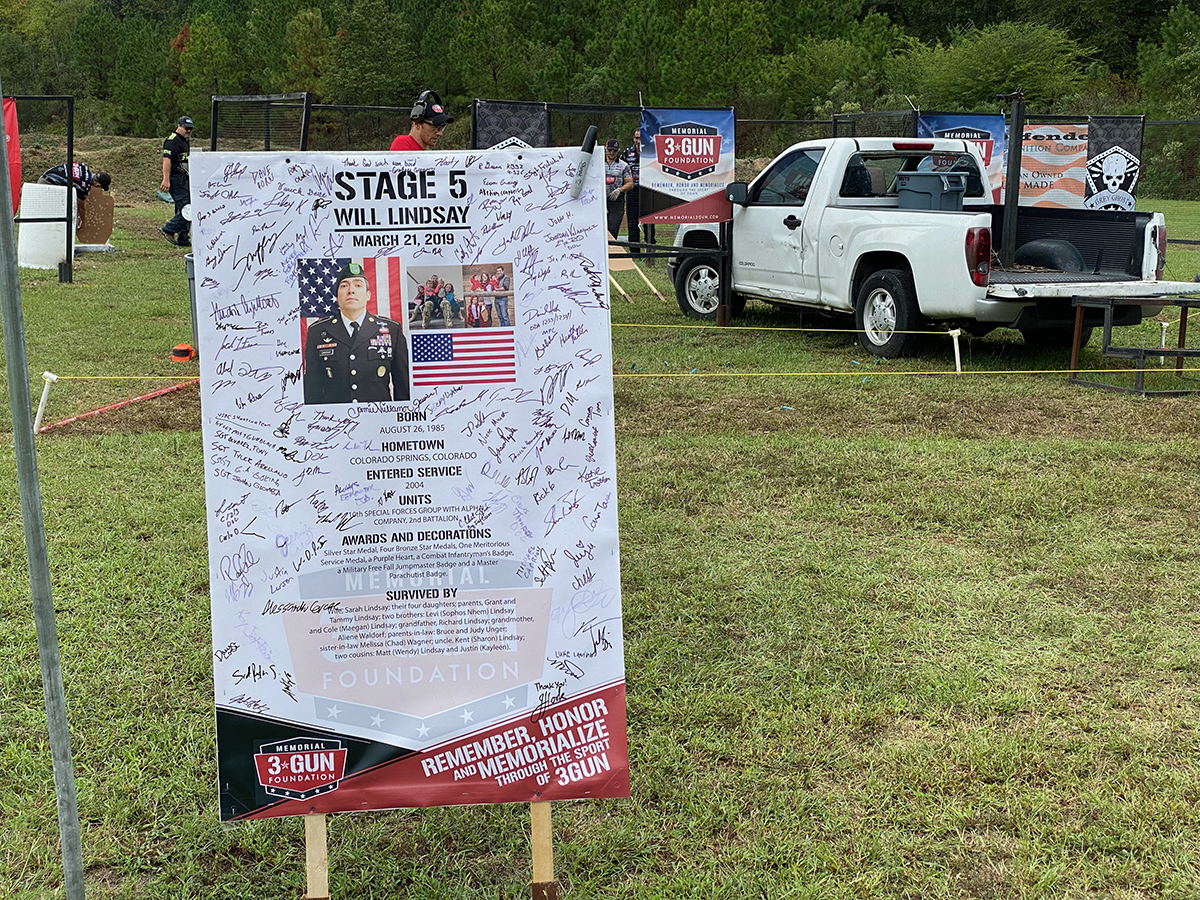 There is a saying that resounds frequently during this event: "A soldier dies twice-once when they take their final breath, and later, the last time their name is spoken." By honoring these Special Operations members specifically each year, we are keeping their memory alive and well so that they may never know a second death. Each stage opens with a moment of reverence; all the shooters huddle around the Range Officer who is standing next to a waving American flag and a large poster of that stage's honoree. The RO reads the honoree's name, where they grew up, where their career in the service took them and what accomplishments they earned during their lifetime. Shooters and bystanders are then encouraged to sign the honoree's poster, which is then gifted to the Gold Star family at the end of the event during the closing ceremony. Every competitor walks away with a sense of who these men were.

The 2021 honorees are as follows:
SFC Jeremy Griffin
SFC Gilbert Garcia
MSG Gregory Trent
SSG Kevin McEnroe
SFC Javier Gutierrez
SSG David Whitcher
SFC Will Lindsay
MSG Nicholas Sheperty
SFC Antonio Rodriguez
A1C Keigan Baker
This match is not about inflated egos or awarding big checks to the shooters. It is about remembering, honoring, and memorializing friends, family, and brothers-in-arms. It is about telling their stories and meeting their families. It is showing the widows, the children, the siblings, and the parents of these honorees how much of an impact their loved ones had on their friends and fellow service members. It is a chance to prove that our memories are long and that we will never forget the names of their fallen loved ones.
With the echo of every rifle, shotgun and pistol fired, we defy sorrow and hopelessness.
The match itself is always comprised of 10 main stages with several side stages. Competitors take on a mix of traditional 3-gun-style stages and technical shooting stages; from classic "run and gun" stages to more unique stages such as shooting from a dilapidated helicopter on the ground or various stationary SUVs and pickup trucks. The targets are well-diversified at each stage ranging from cardboard IDPA-style torsos, steel plates, spinning steel rigs (aka the "Texas Star"), and clay pigeons that are launched in the air upon activation of a steel target falling. Both birdshot and slugs are needed for shotgun stages. The stage designers put in a ton of effort each year, and this year was no exception.
This year's schedule had each squad shooting four stages on Friday and Saturday of the match with two remaining stages on Sunday. In addition to the 10 honoree's stages, there are side stages available to allow vendors to show off their products as well as fundraising through the sale of tickets for participation. This year, the title sponsor, Grey Ghost Precision had their own side stage in addition to sponsoring the Little Bird Helo side stage. Returning sponsors, Staccato and The Duskin & Stephens Foundation had challenging and popular side stages. A new sponsor, the Special Forces Association Chapter VI, had great success with their side stage. Lastly, the Shoot-Off side stage gives all the competitors a chance to win as a 3-man team or as an individual shooter. Proceeds from all the side stage entry tickets, along with competitor registration fees, helped the M3G Foundation raise funds for the Gold Star families in excess of $250,000 this year.
On Sunday, after the side stages have been conducted and the group photo has been taken, all personnel gather inside the Gryphon Group Headquarters building for the Memorial and Award Ceremonies. Every year, the ceremony is where we formally show reverence for the honorees, present the signed posters and commemorative plaques to the Gold Star families, and listen to their personal stories about their loved ones. There is never a dry eye in the room during those heartfelt moments. After the memorial ceremony concludes, the match award ceremony commences as the final winners are presented with their trophies and the final raffle prizes are given out.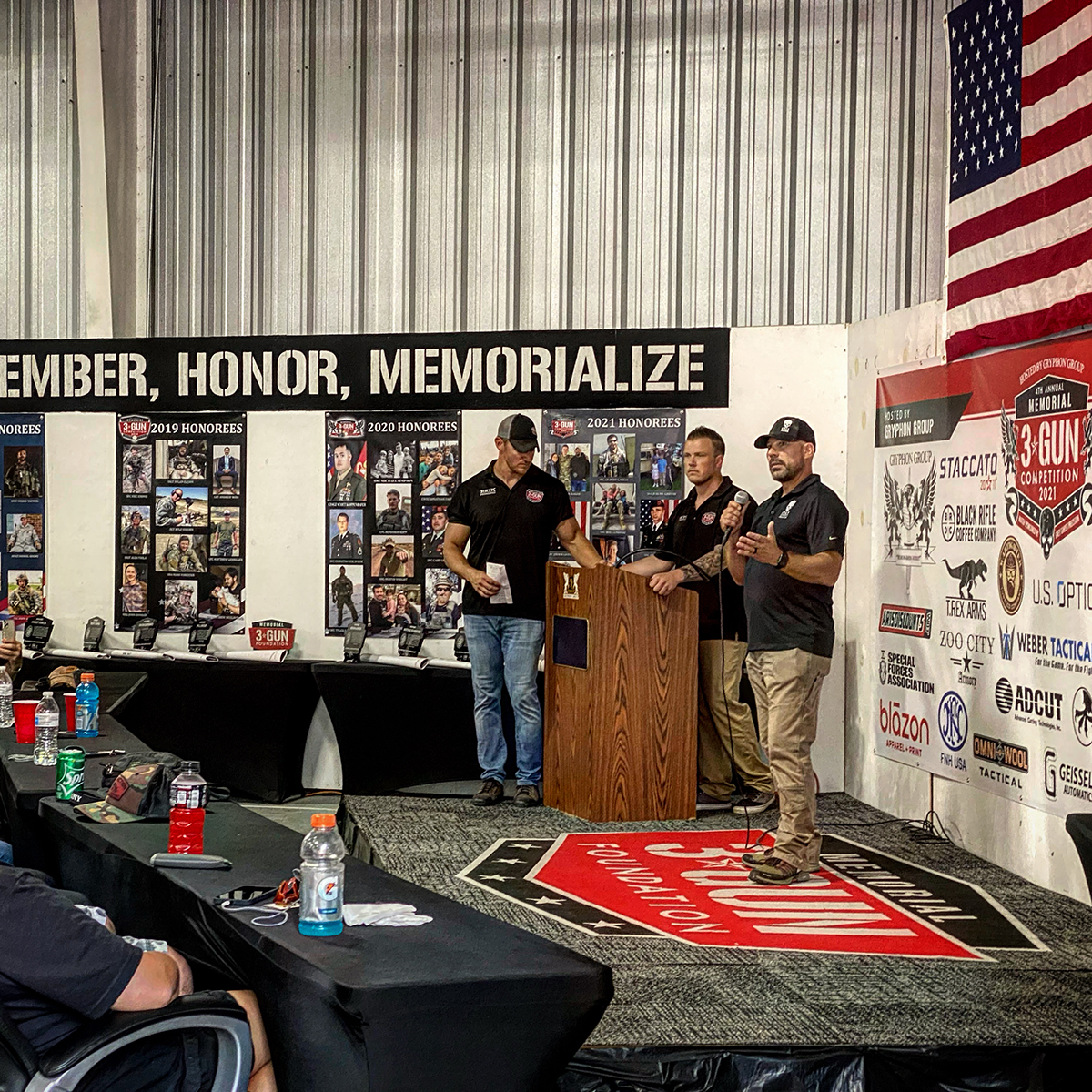 How did Grey Ghost get involved?
As a veteran-owned company that specializes in manufacturing precision firearms and components, the premise of sponsoring a shooting event has always been a desire of GGP, provided that the focus was on a charitable cause and not commercial clout. Grey Ghost chose to be the title sponsor of this specific match because of the Memorial 3 Gun Foundation's values and integrity. The foundation is 100% volunteer-based, and their sole focus on Gold Star families aligned with Grey Ghost's wishes to give back to the military community.
"Once again, this year's match was an unprecedented success in our eyes," says David Hannah, SOCOM Special Projects Manager at Grey Ghost. "This event means so much to all of us, and literally gives hope to those who have been experiencing the unimaginable lows in their lives currently, with what's happening in the country and around the world. This event has such an uplifting impact on so many lives, and we ourselves need it as well... having personally worked with Gold Star families and watched their faces light up after hearing stories about their fathers and even getting to experience the same tools that they did in battle is a beautiful moment.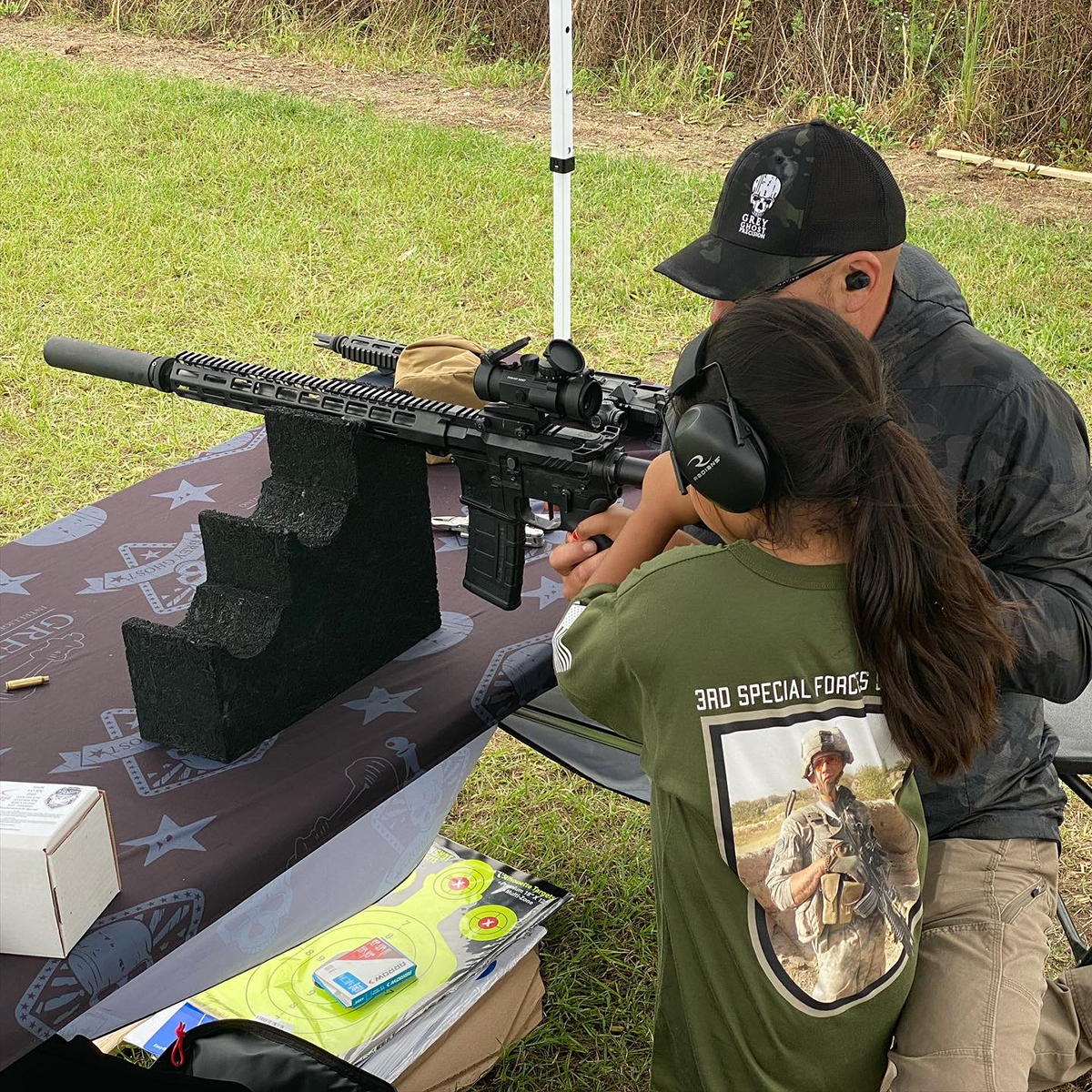 To have that kind of significant emotional growth take place right here, alongside an incredibly challenging and invigorating match that attracts the best civilian and military shooters in the nation... this event is truly one of the most prestigious matches in America and one of the best causes to get behind."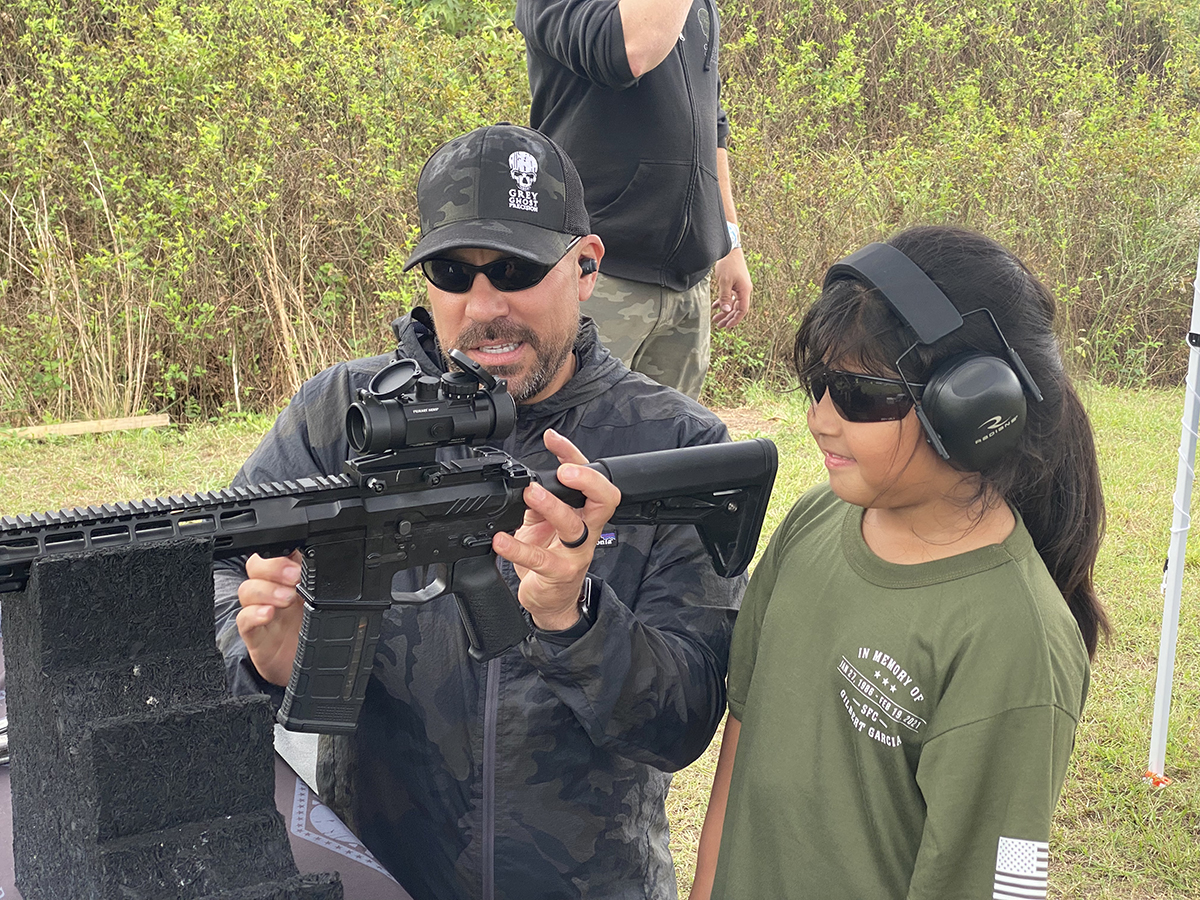 In addition to monetary and product sponsorship of the match each year, and covering the first 100 active duty military shooter slots, Grey Ghost employees donate some of their expertise to help support the match and keep expenses low for the M3G Foundation itself. Trophies are machined and cerakoted in-house by the Grey Ghost Precision engineering department. Marketing, graphic design, and photography for the event are supported by Grey Ghost's media team. This year, several Gold Star family members were able to use firearms and ammunition at no cost to them or the foundation. This was possible through the tremendous generosity of match sponsors and volunteers, regardless of the ongoing ammunition drought, no less!
"We at Grey Ghost deeply thank all of the volunteers, sponsors, and shooters for making this 4th year an ongoing success in another ongoing year rife with hardships and challenges," says Joseph Jones CEO, Grey Cell (a Grey Ghost Brand). "This event is getting better and better each year because of the collective efforts from everyone involved. We are so proud of the accomplishments made this year and the amount of support that was raised for the Gold Star families; it is thanks to everyone involved on all fronts. We are already anxiously planning for next year's 5th Annual Competition, and we hope to see both familiar and new faces there in 2022!"
For more information about the Memorial 3 Gun Foundation and how to get involved with the 5th Annual Competition in 2022, please visit www.memorial3gun.com.